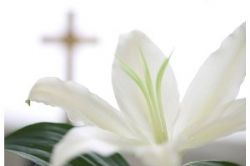 As more and more expats move to Spain and integrate into the wider Spanish community, it is a sad but inevitable truth that more and more of us will have cause to attend a Spanish funeral.
Confused about differences between funerals in Spain and the UK, many expats are unaware of the etiquette of attending such funerals for fear of showing a lack of respect, but that need not be the case.
As in the UK, funerals are often a deeply personal event and as such no two funerals are alike. This article should therefore be considered a 'rough guide' as opposed to a cast-iron procedure.
Notification
The first thing that you will notice is that funerals over here generally take place very soon after the death has occurred, and as such when you hear of the death of somebody who you wish to pay your respects to, you will need to be prepared for the funeral often being held the following day.
When somebody in the Town or Village has died you will often find that the news of this is spread by word of mouth or by a simple notice being put up outside the church.
There is rarely time enough for a notification to be made in the local paper, or for formal written notification of a death.
The Funeral
Depending on the circumstances of the death – IE at Home, in Hospital, or as the result of an accident – the Doctor may sign the necessary certificates very soon after the death has taken place, when the deceased will be taken to a 'Tanatorio', or Chapel of Rest.
It is not unusual for one or more close friends or family members to hold a vigil in the Tanatorio – staying the night with their loved-one, one last time. Friends, neighbours and other family members may pop by to pay their respects.
Whilst this is not necessarily essential, you would normally attend the Tanatorio to pay your respects the same day of deceased passing. You should be prepared as the deceased may be laid in their coffin behind a glass screen for visitors to see, although some families choose to have curtains drawn so as not to overly distress family and friends.
The next day a brief service of remembrance may be held at the Tanatorio – possibly as well as or instead of a traditional Catholic Mass. The coffin is then moved on to the local Cemetery, often with a procession of locals walking behind the hearse.
Although cremations do take place, they are far less popular than in the UK.
If you are attending the funeral, you MUST make sure you arrive with plenty of time before the service takes place. The services are prompt and there is nothing worse than late comers arriving and disrupting proceedings.
TOP TIP: Switch OFF your mobile phone before the service!
The Internment
Notice the word 'Internment' as opposed to 'Burial'. As with Cremations, Burials do take place, but the more popular funeral occurs by placing the coffin in a niche above ground. The Niche is usually rented by an entire family for a period of as much as 50 years, to ensure that family members going back several generations are laid to rest together.
This niche also serves as a focal point for the 1st of November 'Dia de los Muertos', when respects are paid to those that have passed on that year.
The tradition of renting a niche is usually passed on from one generation to the next, but if a lease is left to expire the remains are often then buried.
Dress Code
The dress code is usually sober, but generally not overly formal, except for a few close family members. Smart, dark colours will ensure you do not stand out.
Afterwards
Notably, there is rarely a "wake" and a Spaniard would more than likely be horrified at the tasteless suggestion of "having a drink" to remember their friend or loved one, so don't be tempted to hang around after the internment has taken place and try not to make the cultural faux-pas of heading straight to the local bar.
Further information of the Procedures to follow after a death in Spain by clicking the link >> HERE << .