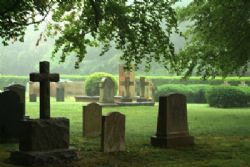 Moving abroad to a new country, whether for work or retirement, and being away from friends and family in your home country can often understandably cause many expats to have the "What if..." conversation with themselves.
Legalities and procedures in a foreign language and culture often polarise expats into 2 distinct camps : 1) Burying one's head in the sand, and 2) Spending expensive and often unnecessary amounts of money as a comfort blanket, hopefully as some mean of protection against any unexpected financial loss.
Procedures surrounding the Death of a Non-Spanish national in Spain, and Funeral Plans in particular, can be one such consideration.
As such this guide assumes that the following, associated guides have been read for futher useful information :
*Procedures to follow after a death in Spain
*Bereavement & Funeral s in Spain
*Etiquette to follow at a Funeral in Spain
WHAT is a Funeral Plan
Firstly, a Funeral Plan is not an Insurance Policy. Death in itself is inevitable, so inuring against it would a pointless exercise. However, what it does Insure against is the excessive increase in price in holding a funeral.
WHY consider a Funeral Plan
For one, Funeral costs have increased in price significantly over recent years, and are expected to carry on increasing over coming decades. A Funeral Plan allows the individual to basically design their own package around their wishes, agree a cost for the entire package and make a series of structured payments. The Plan provider invests the funds in various investment vehicles to ensure that the funds paid grow to cover the cost of the Funeral in future years.
What If I should die before the Plan is paid ?
If the policy holder should die before the Plan has been paid in full the outstanding sum will be paid out from the estate of the deceased, or by the relatives.
Are there any other benefits ?
Aside from the obvious attraction of having the peace of mind that your loved ones will not be left with a hefty bill after your passing, there are a number of other reasons as to why Expats in particular find Funeral Plans an attractive consideration :
* It allows the policy holder to document their final wishes. A church service, or a simple personal ceremony ? Cremation or Burial ? it makes everything clear.
* It can take pressure off the family at a difficult time. Procedures move much quicker following a death in Spain than they do in the UK, which can often catch many families unprepared.
* Some policies even allow for repatriation of the deceased back to a different country.
Death, sooner or later, is inevitable, and the cost of a Funeral must eventually be paid for your passing. The only questions are when, by who, and how much.