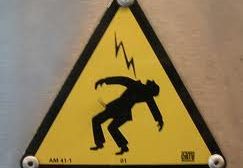 Unless you are a trained professional, it is not easy to see any potential defects that may be lurking beneath the surface of a property.
Alongside structural defects and an unsafe connection to a gas supply, fewer things are more concerning than a potentially dangerous electrical circuitry.
With this in mind Tumbit asked Tony Poole from Sparks Electrical Services to tell us why having an Electrical Survey on your property is a good idea :
ĒThink Electrics... before you buy a house. Electrics, like everything else, deteriorate with age. Itís an all too often common mistake for property buyers to ignore the condition of the electrical system until after moving in. Chances are you are going to get more than just an aftershock, more likely a seismic event that hits your wallet.
Thatís why it is essential to get the electrics thoroughly checked out before you buy, especially in Spanish homes of a certain age. Tripping-out and overloading problems are the last thing you want after moving in. The Homebuyers Electrical Survey is designed to assess the condition of an electrical installation during negotiations of the sale.
Here are 3 important things you need answers toÖ before you buy :
1.) Properties built before 2003 are wired to antiquated Spanish electrical regulations when earthing was hit and miss. This is a major cause for concern that increases the risk of electric shock. For the safety of you and your family you need to ensure that improvements have been carried out to earthing in old properties.
2.) In Spain, the electricity supply companies calculate their standing charge by the amount of kilowatts you sign up for. Itís highly likely that an old property has had its power supply illegally upgraded in a common practice referred to as a Cowboy Upgrade. This avoids paying a higher tariff whilst drawing more electrical power than legally allowed to. With the introduction of the ICP (Interrupter de Control de Potencia) and Smart Meters this is no longer possible. You may have to arrange a legal upgrade for the electricity supply.
3.) You may need an ICP (Interrupter de Control de Potencia) or a Boletin (Certificado de Instalacion Electrica de Baja Tension), before Iberdrola will allow you to have an electrical supply, even though the property already has one. Donít be fooled into thinking itís just a matter of visiting the local Iberdrola point to get the owners names changed over.
The Homebuyers Electrical Survey is based upon the Electrical Installation Condition Report published by the Institute of Electrical Engineers for periodic inspection and testing adapted to the Spanish electrical wiring regulations (REBT 2003). It covers a thorough check of the installation using specialist test instruments. The survey includes a report along with recommendations for repairs and energy saving improvements. Itís a peace of mind solution that highlights safety issues and legal requirements before the actual purchase.
The price for a survey usually starts from around 99.00 euros plus IVA, depending on your contracted supply which is stated on your electricity bill next to Potencia Contratado, given in kilowatts (kW).
This service is not exclusive just to home buyers. Electrical regulations recommend every domestic dwelling should have a periodic inspection every 10 years.