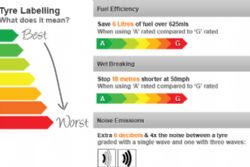 As of November 2012 the EU introduced a new system of tyre demarcation in order to provide information concerning the environmental and safety aspects of each tyre as it rolls of the production line. With echoes of Spain's EPC system for residential properties, the EU tyre specification makes it easy to compare various brands and manufacturers of tyres for issues such as noise, fuel consumption and performance in wet conditions – each of which carries its own rating.
Fuel Efficiency
With tyres accounting for around 20% of a vehicle's fuel efficiency, choosing a tyre with a more economic rating will mean cost savings in the long run, together with lower CO2 emissions.
Fuel efficiency is rated from A to G on a colour-coded scale, with A (green) = highest fuel efficiency rating, and G (red) = lowest fuel efficiency rating.
Rating D is not used for passenger cars.
The difference between an A rating and a G rating could mean around 7.5% savings in fuel consumption – or 6 Litres of fuel for every 1000kms.
Performance in wet conditions
Basically put, the EU 'Wet grip' rating assesses a tyres ability to brake suddenly under wet conditions – specifically the overall braking distance.
Ratings run from A through to F, however D and G are not used for passenger cars.
When measured in accordance with test methods stipulated in EC Regulation 1222/2009, this means that a car with A rated Tyres will stop around 18mt shorter than with G rated Tyres when traveling at speeds of 80km/hr.
Noise
The EU rating measures the external noise emissions of the tyre in decibels (dB) :
* 1 black wave: Quiet (3dB or more below the future European limit)
* 2 black waves: Moderate (between the future European limit and 3dB below)
* 3 black waves: Noisy (above the future European limit)
Whilst not having a direct affect on the physical performance of the car, the new rating is designed to encourage the consumer / driver to give thought to the affects that lower-rated tyres have on noise pollution.
Click >> HERE << to read more about The Legality of Tyres on Road Vehicles in Spain .