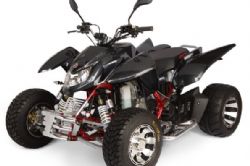 The Spanish climate, way of life and fantastic scenery in many parts of the country makes owning both a motorcycle / quad bike - or even renting one whilst on holiday - an attractive consideration. Add in the cost of ownership, and it is easy to see why there seems to be significantly more quads on the roads of Spain than in the EU.
However, the driving laws and regulation surrounding Quad bikes can often seem confusing. With this in mind Tumbit asked Mike Forrester from Motorcycle.co.uk to explain more :
" As from September 2010 the law changed so that you now need to be a minimum 15 years old to get the new 'AM' licence which allows you to drive scooters / mopeds or quads of 50cc. You need to take a theory test and a closed circuit test.
The A1 licence stays the same which allows you to drive bikes up to 125cc. You need to be a minimum of 16 years old and take a theory test, closed circuit test and an open road test. If you have held a 'B' licence (car licence) for a minimum of 3 years the A1 is included within the B category.
Spain has now fallen into line with the rest of europe and created a new 'A2' category. You need to be a minimum of 18 years old and have held an A1 licence for 2 years or a 'B' licence for 3 years (21 years old). You have to complete a theory, closed circuit test and an open road test. This allows you to drive bikes upto 35kw (appx. 500cc).
** The legality of Crash Helmets in Spain is covered in depth on the Article attached HERE
ONLY when you have held the A2 licence for 2 years and are a minimum of 20 years old can you then take the 'Big Bike' licence which allows to to ride anything you like, which again means a theory test, closed circuit test and an open road test.
If you currently hold a UK driving licence you would need to convalidate this to a Spanish licence to enable you to take the A2 licence. Do off-road training session and test. Sit a theory test. Do an on-road driving test. You can now ride up to 500cc/35Kw
After 2 years, sit another theory test, another on-road driving test. Then you get an A licence and can ride anyting you want.
Quads
On a car licence, you can ride a quad up to 550Kg/approx 30 hp - if it has a normal black-on-white number plate.
If it is 'Agricultural Plated', which means it is registered as an agricultural vehicle, and with a red-on-white number plate, you can ride any size quad you like. It is quite common to find even quite hairy large-capacity sports quads registered as agricultural vehicles in Spain. These have to display a '45km' plate and are supposed to be restricted to 45km on the road and for single occupancy.
Disclaimer: We are familiar with the situation in the Alicante region, the same may not apply in other areas. Licence regulations are sometimes interpreted differently from area to area. We believe this information to be correct, but of course it is not a full statement of the relevant law and should not be taken as such. All details correct and current as of 27.09.2013.
Source : Mike Forrester from Motorcycle.co.uk