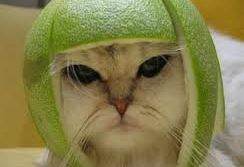 Often confusing and sometimes amusing, Spain's law concerning crash helmets for Motorcycles, Quad Bikes and Mopeds can often leave many foreigners in the dark.
Previous versions of the law stated that a suitable crash helmet "had to be carried " by those riding a Motorcycle / Quad / Moped on any road on Spain.
The exact choice of wording was then exploited by many a road user who simply either carried the required helmet in their hands or slung around the handle-bars - or even perched upon the top of their heads, causing much hilarity and finger-pointing.
Similarly, previous versions of the law failed to clarify and define the use of the word "Suitable".
Although it is by no means unusual to see road users continue to use this lack of clarity as an excuse to endanger their own lives - and worse still, see the authorities allow them to get away with this - the EU's law on this issue is clear.
Under Harmonisation of EU law, Spain's Direccion General Trafico (DGT) states that any Motorcycle, Quad bike or Moped riden on any public road must be done so with the occupant(s) wearing a crash helmet that is compliant to ECE Regulation 22 Revision 05.
ECE Regulation 22 Revison 05
The requirements of the above regulation state that :
* Peripheral vision at 105° is required when measured from the centre-front of the helmet.
* The chin-strap must comply with a 10kg free-fall drop test from a height of 750mm, which allows less than 35mm displacement.
* The strap buckle itself is also tested for slippage, together with it's ease of opening and closing.
* Drop testing from a fixed height measures the amount of energy transferred from outside the helmet to the inside, similarly, a penetration test measure the depth inside the helmet that a piercing object might protrude.
* A 'Slippage test' also measures the ease in which object would deflect past the the helmet at force : protrusions such as rivets or fasteners must not exceed 2mm.
* Shell rigidity tests ensure that a the helmet can withstand a constant load of 64.25 kg without deformation occurring.
* The finished appearance of the Helmet must also be reflective.
* Any integral visor - IF fitted - must also be tested.
Any manufacturer of a helmet wishing to apply for ECE approval must also submit as many as 50 sample units for standards testing, and continue to do so at regular periods whilst the helmets remain on sale to the public.
Is your crash helmet approved for use in Spain ?
If and when your crash helmet complies with ECE.22.05 it may be stamped, molded or have a sticker attached - usually to the top corner of the visor - stating a reference number which will include the above regulation.
A second range of digits will include the letter E following one of the numbers between 1 and 37 (each number relating to an EU member state, but this is largely irrelevant as approval in one state means approval in all of them).
A further letter denotes the configuration of the helmet type : "P" refers to a helmet which has a protective lower face cover; "J" refers to a helmet which does not have a lower face cover, and "NP" if the helmet has a non-protective lower face cover.
Furthermore : Non-Spanish residents are reminded that new EU motoring laws mean that Spain is likely to pursue those caught for not wearing the appropriate crash helmet, who may return to their home countries without facing the appropriate penalties.
Further Reading
* Mopeds and Motorcycles in Spain
* Quad Bikes and the law in Spain
* EU Introduces Cross-Border Driving Laws