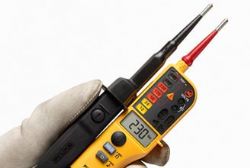 Just how bad does the wiring have to be before a Spanish property needs rewiring ?
One of the most frequently asked questions is "How safe are the Spanish electrics in my home? " The short answer is for homes built since 2002, electrical safety is generally satisfactory. However, for homes built prior to 2002… unfortunately it's "hit or miss."
Spanish electrical regulations received a major overhaul in 2002 with specific safety improvements made to domestic dwellings, particularly to earthing, sub-circuit distribution and socket outlets, most notably the standardisation across Spain of the Schuko type F 16 Amp socket and plug.
A Test & Inspection (T&I) using specialist test equipment carried out by a professional electrician is the only sure way to identify the condition of the wiring. However, there are some typical warning signs to look for in Spanish properties; illegal power upgrades (not authorised by Iberdrola), the poor condition of the consumer unit (over-rated circuit breakers and an insufficient number of sub-circuits), and dangerous socket outlets (not Schuko) being top of the list. The age of the property is a also a good indication – an electrical installation is as old as the oldest component in it.
A T&I tends to be forced upon home owners around the 20 year mark. This is because Iberdrola generally insist on a new boletin (electrical installation certificate) for properties over 20 years old.
Installations that are over 30 years old will undoubtedly have obsolete socket outlets that are unsafe and not earthed, plus many properties will have been illegally upgraded over the years. This is probably a good time to start thinking long term and planning for a rewire. With Iberdrola currently replacing all traditional electricity meters with new Smart Meters it's worth checking that your contracted supply is sufficient enough for your consumption. The kill switch (ICP) housed in the Smart Meter will ensure that properties are limited to the contracted supply. Inevitably, illegal upgrades will all be downgraded to their contracted amount.
If your house is over 40 years old, the chances are that different owners have altered circuit breakers or extended wiring circuits by trying to adapt the house to modern living. The bad practice of up-rating circuit breakers to overcome tripping out problems caused by overloading creates a potential fire hazard. Regardless of whether any electrical work was done by professional electrician or by D.I.Y. owners, it will most certainly not have been done to modern standards.
Houses can often appear to have deceivingly newer electrics because the light switches, socket outlets and light fittings have been changed. However, a closer examination generally reveals that the actual age of the wiring is 40 years or more old.
NOTE : If an installation requires a considerable amount of work, it may be more cost effective in the long term to consider rewiring the complete installation.
Article written by Sparks Electrical Services : More information on this and other associated services can be found by visiting the website of Sparkes Electrical Services by clicking here.