For many of us, the dream of living in Spain will mean the open Countryside - Far from the Madding Crowd : Peace and Tranquility over Neighbours and Mains services. However, the practicalities of getting your project off the ground need addressing !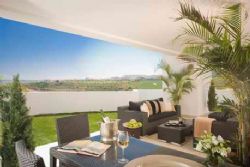 Land that falls within the definition of this category is also outlined on the General Plan, which can be viewed at your Town Hall. As the name suggests, and as you would probably expect, rustic land falls outside the Town or Village itself and is often on the fringes of the Town Halls geographic territory.
Unlike urban land, where the rules are laid down by the local town hall, in this case it is the regional government who makes the rules regarding the minimum size of the building plot in rustic areas. For example the Regional Government of Valencia clearly state that the law requires a minimum area of 10,000m2 for any building to take place on Rustic land. Other Regions may vary so it is wise to check with your local Town Hall at the very start of your search for a suitable plot.
However, rustic land may then be further sub-categorised into three different classifications: Protected, Restricted or Building land. So it is not always the case that just because the plot is 10,000m2 or greater that you will be able to build on it. Once again, these categories are shown on the General Plan available in the local town hall and should be checked before any agreement to purchase is made.
Rustic land tends to be much cheaper per m2 than urban land; the problem is you need to buy a lot more square metres in order to have a plot large enough to build !
Footprint of Property
This is always fixed at 2% of the plot size
- So on a plot of 10,000m2 it is possible to build the ground floor to a maximum of 200m2
Total Build Area
This is always fixed at 4% of the plot size. On a plot of 10,000m2 it is possible to build two floors each of 200m2 making a total constructed area of 400m2.
It should be noted that these are the maximum areas of occupancy and construction can exclude a cellar, (which may be the same area as the ground floor,) terracing, porches/pergolas and a swimming pool.
There are other rules governing the maximum height of the building. Rustic houses are restricted to two floors. Rules vary as to the height of sold boundary walls typically 1 to 1.80 metres.
Aesthetic appearance
As you might expect, in order to maintain a traditional country house effect, properties built in rustic land need to be built to fit in with the surrounding properties and the general area. For example you would be unlikely to get permission to build a Modern Glass Fronted Ibizan style Villa on an Inland or rustic plot. Traditional inland rustic houses are commonly known as Finca's and are either clad in stone, or constructed entirely from stone.
Rules regarding aesthetics are laid down by the Town Hall and therefore vary from area to area. Some Town Hall's may have strict rules concerning the direction of the roof-line, types of windows permissible, number and dimensions of arches, materials of construction etc... whereas other towns may have less rigid restrictions - if Indeed any at all.
As with all Building projects, Tumbit recommends that you consult with experienced, reputable LOCAL Architects, surveyors and Builders as they will more than likely already be familiar with the regulations that your local Town Hall has set down.