It's time to take responsibility and realise that the only person who can learn a language for you is yourself !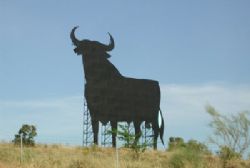 Study abroad programs appear at first glance to have the learning system down. They provide the classes and the living arrangements and, of course, the country where you want to study. It's all there!
Your job appears to be even easier : Travel to the country and soak up the language with little or no effort. When it's time to return home, you will be fluent and ready to accept a hefty promotion at work for being bilingual.
Ok. It's time to pinch yourself and wake up. That scenario doesn't work unless you're below the age of 5 and take in languages like you do video games.
You have a lot more to do in order to make your dream come true. It's not difficult but it is more active than passive. The truth is that the majority of students that travel overseas to learn Spanish come back with little or no improvement. They have high expectations when they leave but find that taking a leap to the "next level" is not as simple as they thought.
And in the majority of cases it is NOT the fault of the Course or Program. In almost all cases study abroad programs fulfill their responsibility. They offer the students all they need to be comfortable and engaged. They solve problems, guide and encourage.
The problem lies with YOU , the learner. You have to be mentally prepared to enter a culture where you are not the top dog, the big cheese, the leader of the pack. In most cases, you're the little brother who tags along. You know, the one who is always there but never has much to say.
Why waste all that money and time if that is the reality that awaits? No need to. Here are three suggestions for you to follow so that you get exactly what you're looking for.
Tip #1 - Stay away from English speakers. Nothing can hinder your progress like hanging out with other English speakers. Forget this, "Oh, but he's from The USA / Canada etc...I've never hung out with anyone from there before." Plan on hanging out with someone from there once you become fluent. Not as soon as you get there.You must meet and hang out with native speakers as soon as you arrive. If you wait for the right time, it will never come. Do it immediately. Find a speaking partner, go to bars and meet people, take along an English speaking friend if they are as pumped up about learning Spanish as you. but get out there and make some new friends.
Tip #2 - Get used to eating humble pie. You may be the joker at home but you are a wallflower in Spanish. Don't get down on yourself. It won't last forever. But learning is a process and this is one more step. Don't worry you can't be the life of the party. Just be at the party for now and you'll pick it up. It may take a month or two but what is that compared to years of being a fluent speaker?
Tip #3 - Keep studying. Why do you think they call it "studying abroad." Just because you're in Spain or Mexico doesn't mean you can leave your studies behind. Keep conjugating, keep a record of cool phrases and words, keep learning something new each day. The effect will be amazing.I used to remember things I couldn't say and look them up later. Then, I'd write them down. You can do it your way... just do it !
If you follow these strategies, I promise you will come back fluent and loving it. It is a real joy to speak a foreign language and you'll know what I mean when you get there. Just don't throw your money and time away because it's really cool to hang out with people from Alaska or New Zealand or wherever !
Studying abroad can get you to fluency faster than anything so do it properly !