Once you and your dog have arrived in Spain you will find that the fundamentals of looking after him are not that different to the UK. There are of course a few things that you may need to consider, but on the whole you shouldn't find much of an upheaval.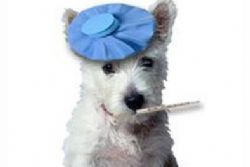 You may decide upon medical insurance for your Dog, however there are often a number of restrictions and exceptions included in the small print. There are a number of things you can look at to ensure that you have done everything you can to keep trips to the vet, and any unnecessary insurance claims to a minimum.
Things to consider :
1.) Particularly if you have an older dog you may want to ensure that you have plenty of shaded areas for him to escape from the sun in the summer months.
2.) Leishmaniasis can be a killer of dogs. At best it is a nasty disease but can cause a slow and painful death, many dogs every year die as it goes undetected. If caught early the disease can be kept under control with medication. It is caused by a tiny – almost invisible parasitic sandfly and causes skin problems and multiple organ failure in dogs. The fly is most prevalent in summer and early autumn during the hours of dusk and dawn. It is strongly recommended that you keep your dog indoors at these times.
3.) It is not unusual for your dog to be inquisitive about the wildlife in his new country. Be aware that bites from snakes and centipedes can be particularly nasty for Dogs, their coming into contact with toads can cause stomach problems, however perhaps the worst culprit is the Processionary Caterpillar. This pest lives only in pine trees in cotton wool-like nests and the caterpillars emerge every spring and descend from their nests. They are covered with thousands of very fine hairs that are toxic and which can be fired like tiny missiles towards anything that they deem to be a threat. This poison is also harmful to humans and causes problems with the eyes and swelling in the throat leading to breathing problems. Get your dog to a vet straight away if you suspect he has come into contact with any caterpillars especially around the face.
4.) Although not expensive, Good vets can be hard to come by – particularly in Inland and less remote areas, so it is wise to ask around for recommendations and save a contact phone number to you mobile incase needed in emergencies.
5.) Because of this it may be a consideration to invest in a pet's first aid kit. You may be able to treat a number of minor complaints yourself as opposed to having to travel some distance and taking some time for a treatment you could have done yourself.
6.) A check up needs to be done every year to ensure that your dog is given a Rabies booster and it is also recommended that around January /February that you ask for a blood test to check if he has been infected with Leishmaniasis over the Summer months. If detected at an early stage prescribed medicine can sometimes contain the disease.
7.) Consider liability insurance and / or health insurance for your pet. If your dog should get loose and be hit by a car, or cause harm to another person you will be liable!
8.) Ensure that your dog has a constant supply of water. Obvious Maybe, but you need to consider just how much more he will be drinking as he gets used to his new environment.
9.) Choose a high quality pet food. Spain is still a largely agricultural nation, and one that it not especially known for being a lover of animals. There are many suppliers of dried Dog food in Spain and it is important not to fall into the trap of buying solely on price. If you yourself lived exclusively on a very poor quality by-product and cereal diet that was high in fats and low in good quality ingredients, then sooner or later you wouldn't be surprised if the effects of this caused with some kind of dietary or other health problem that necessitated a visit to the Doctor. The same is true of dogs – only the resulting healthcare required can often be much more expensive!
Prevention is always better (and cheaper!) than the cure, so it is strongly recommended that you ask the owner of a healthy and happy Dog local to yourself where they buy their Dog food from. It is true that natural and holistic foods are considerably more expensive than supermarket branded or agricultural feeds that are packed with "Fillers and by-products", but in the long run the true benefit is in having a happy and healthy pet, with a significant decrease in Vet's bills.
>> Click HERE to get a free medical Insurance Quote for your Pet today <<