Caravaning is very British hobby, and one that is particuarly suited to the Spanish climate, however, after being here for 6 months you will need to think about legally registering your caravan in Spain.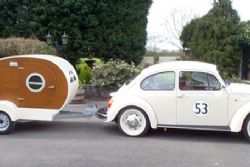 Unlike in the UK towed vehicles including caravans have to be registered seperately to the towing vehicle and if it is over 750Kg in weight it will need to show a red number plate. Each caravan or trailer is treated as a unique vehicle and has to undergo inspections by a specialist team, similar to the ITV (Mot) for other vehicles.
If you are planning on bringing your UK caravan to Spain, after 6 months has passed it should be legally imported if you are planning on moving it from one place to another on the roads.
Assuming your caravan is over 750Kg, you need to register your caravan with the Jefatura del Traffico to get a set of plates for it. To do this you will need a EU style logbook (ficha tecnica) stating the chassis number, technical specifications, make, model, etc. While most EU caravans made in the last few years will come with this paperwork, anything older will not.
If your caravan does not come with all of the necessary paperwork, you might be able to request an new document from the manufacturer.
In the case of UK caravans, most of the time you will find that when caravans are over 5/6 years old, that you cannot obtain the necessary documentation and must assemble the "ficha tecnica" from scratch, which in most cases is a nigh on impossible task. Also, the construction and style of some makes of UK caravan prohibit them from becoming road legal on Spanish plates (Largely due to the fact that the door is situated on the "wrong side" of the Caravan)
For more information on importing your caravan onto Spanish plates you should contact a specialised gestoria who will be able to advise you on your particular case. If you should consult with a specialist who also includes the presenting of your caravan to the ITV station, then it is recommended that you check that they are suitably insured.
The very issue of owning a caravan also means that you are also likely to have a tow car on your car. If this should be the case, then you should also research the fact that may cause you problems at your next ITV.
Click here to read Tow Bars In Spain