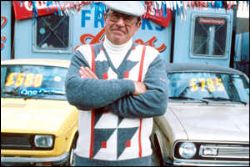 A Spanish Registered Vehicle
Any new buyer of a second hand Spanish vehicle in Spain is automatically liable for the outstanding debt attached to vehicle. This could be unpaid road tax from previous years, traffic or parking fines and even outstanding finance or unpaid loans that have been secured on the vehicle. Furthermore embargoes can be placed on a vehicle that the potential new buyer may be unaware of.
You may also be buying a vehicle that has been written off in a previous accident and been put back on the road, or worse still stolen – and in all of these cases you, the buyer, will be the one left with the headache.
The Jefatura del Traffico - ( Ministry of Transport - similar to the DVLA in the UK ) has an office in the main city in each Province, and provides a service that, for a small fee can advise you the following information if you are able to provide just the registration number ( Matriculation ) of the vehicle that you are looking to buy :
Vehicle Make and Model
Year of first Registration
Engine size , Fuel, Transmission
Imported into Spain or not
Number of Previous owners
Bastitdor (VIN Number)
Details of Current owner
Stolen or Not
Registered off road or not
ITV ( Mot ) details
Any outstanding debt or emargoes
This information is provided on a single page A4 report, in Spanish, and will essentially provide you with enough information to make an advised decision on the true value of the vehicle that you are considering buying.
In most cases in life if something seems too good to be true, then it probably is – and a small fee can either prevent you from making a big mistake , or give you peace of mind that your purchase isn't going to come back and bit you on the backside years down the line.
If you are unable to do this yourself, then there are specialist companies located closeby to most Traffico offices that can do this for you – or alternatively a Gestor will usually do this , but you will need to add on a further small fee for their time in doing this for you.
A UK Registered Vehicle in Spain
The process on checking outstanding Finance etc... on a UK Registered Vehicle in Spain is very similar, except that you will need to make contact with a company in the UK who can liase with the DVLA on your behalf. Unfortunately it needs to be said that there are quite a few UK registered cars in Spain with questionable provinence due to the fact that many owners see taking a vehicle out of the country as an easy way to duck under the radar.