The Spanish Banking system has become much more receptive to awarding Business start up loans over the last few years, and whilst it's fair to say that the process has become much easier, don't expect a loan to be as easy to get as they are in the UK.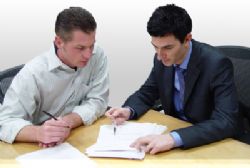 Spanish Banks are especially cautious about awarding Business loans to foreigners, including those who have been legally resident in Spain for a while and have equity here, such as a house. Many senior level Banking Staff are unable to override the system or make changes because the way that things work are often ingrained in the whole Spanish Banking culture. These loans usually require a guarantor or request evidence that the business has been making a profit to start with (Which is ridiculous when you consider that most loans are requested in order to start a Business!) EU regulations state that both residents and non-residents should be equally eligible for a loan in any currency, but in practice be prepared to find that you come up against closed doors. Spanish Banks haven't risen to being some of largest in the world by taking risks.
If you still need to press on and apply for a bank loan, you must prepare a very detailed and realistic business plan, which should include thorough information on how you intend to repay the loan (should it be granted!) - Your Lawyer or Asesor should be able to work with you to prepare a very professional and thorough proposal in the Spanish language that will stand you the best possible chance in at least having the Bank review your case favorably.
If you are successful in securing a loan, you will be usually expected to source at least an equal amount of investment and the repayment period will often be set at between five and seven years. Rates vary considerably with the bank (depending on the amount and the loan period) so it's advisable to ask for your Lawyer / Asesor for help in sourcing the establishment with the best rates at the same time as he is preparing your presentation.
Small and medium-size businesses
Businesses that have been registered officially as a "Small and medium-size business" ( Known as PYME , or Pequeno y Mediano Empressas) are entitled to preferential access to credit facilities offered by Spain's state owned financial agency ( Instituto de Crédito Oficial - ICO), which is part of the Ministry of the Economy and Finance. For example, they can obtain a loan of up to 70% of the net investment and, and providing that the applicant has no other loan or grant, you can apply for the Micro-Credit Facility, which provides up to 95% of the net investment (up to a maximum of around €25,000). The ICO has a useful website that provides some very useful and detailed information (in English).