Same-sex marriages were made legal in Spain in June of 2005, whereby all civil marriage in Spain now allow homosexual couples the same legal, adoption and inheritance rights as heterosexual couples.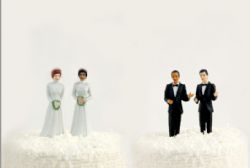 Who Can Get Legally Married in Spain ?
Because the change to the law is still (at least in Spanish terms) relatively recent, certain factors in determining who may and may not legally marry in Spain are still in a state of change. Many Churches and local Authorities themselves are often a little confused about these new changes to the law.
Originally it was stated that Spanish citizens may only marry a partner from a country in which gay marriage has already been legalised. However that was soon changed - and the current ruling is as follows :
1.)A Spanish citizen may marry a non-Spanish citizen regardless of whether that person's Country legally recognises the partnership or not - therefore same-sex marriage IS permitted provided one of the couple is a Spanish citizen.
2.) Two non-Spaniards may marry if at least one of them has legal residence in Spain.
With regards to gay marriages, Spanish law now states that: "Marriage will have the same requirements and results when the two people entering into the contract are of the same sex or of different sexes."
Note: A legal gay marriage in Spain may not be recognised in a country that does not accept gay marriage.
How to Arrange your Marriage in Spain
The same as with a conventional marriage, it is required that at least one of the same-sex partners must be a Spanish resident, and have been legally resident in Spain for at least two years (and registered with the Authority where the Marriage is to take place.)
Application for a marriage license itself can be made at either the Civil Registry Office (Registro Civil), District Court (Juzgado) or, in some cases, the Town Hall in the place where the marriage is to be held.
It is necessary to contact one of the local authorities (listed above) with responsibility for the area where the Marriage will take place to find out the exact paperwork requirements. This can vary considerably between the provinces as some are being stricter than others with regards to the point of residency.
The following documents will be required, but be prepared for the fact that additional ones may be requested :
• Current valid passport (Only for the non-Spanish applicants)
• Original copies of the birth certificates (with sworn Spanish translation if not the original language)
• Proof of being free to marry (Certificado de Capacidad Matrimonial). Provide marriage and divorce, annulment or death certificates of any prior marriage.
• Proof of Spanish residency
• Proof of Empadronmiento proving residence in Spain of at least two years (available from the Town Hall)
Note: All foreign documents that are not in the Spanish language should be translated by an official translator who will stamp them with an official seal. Ask the Authority where you intend to submit your application for a list of their approved Translators where you can do this, and make sure that the documents are approved no more than 3 Months in advance.
The marriage
A civil union is normally held in the courts, or the Town Hall of residence of one of the couple. It is conducted by the Mayor himself or sometimes a delegated Councillor.
The marriage is effective immediately following the ceremony. After the ceremony it is then registered in the Civil Registry and a certificate (Inscripción de Matrimonio) stating the date, time and place of the marriage is then issued.
Civil Unions/Partnerships in Spain
Aswell as marriage for gay couples, nearly all of Spain's autonomous communities now also recognise and provide for civil unions and registered cohabitation between same-sex couples. This also applies to kinship, inheritance, and property issues.