Spanish Court Declares Catalonia Independence Vote Unconstitutional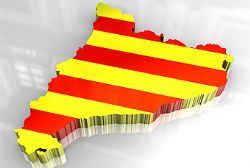 The Constitutional Court said that the submitted referendum documents did not comply with the Spanish constitution. The relevant documents were signed by Catalan President Artur Mas before voting.
Mas regretted the cancellation of the vote, saying that the move leaves the September 27 parliamentary election as the only "democratic and legal way" to consult Catalans on the future of the region. It is considered that the early elections will be a de-facto referendum on Catalonia's independence from Spain.
In September 2014, Mas signed a decree scheduling an independence referendum in the wealthy Spanish autonomous region of Catalonia for November 9. The Spanish government announced that it would block the motion by appealing to the Constitutional Court. On September 29, the court suspended the referendum, declaring it illegal.
Mas then suggested an alternative, stating that the voting in November would not be carried out as an official referendum, but as a consultation instead. However, Spanish central authorities again turned to the Constitutional Court, which blocked the vote.
Despite central government's protests, Catalonia went ahead with an informal independence vote. On November 9, more than 80% of Catalans voted for independence.
The Spanish government dismissed the vote as unconstitutional and filed complaints with the Constitutional Court again.
Recommended Reading :
* Most Catalans would vote to stay in Spain : Poll
* Catalonia to open new foreign delegations