AENA Shareholders must approve closure of San Javier Airport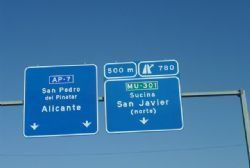 Isabel Borrego, the Secretary of State for Tourism, said on Friday how the opening of Corvera Airport and the arrival of the AVE high-speed train link to the region of Murcia are the "key to attracting international tourists".
The comments came following her presentation of a lecture titled 'The Impact of Tourism on the Economy', where she said that Murcia must focus all efforts on improving transportation links to the region.
The event, held at the Faculty of Business at Cartagena Polytechnic, was attended by around a hundred employers within the region's tourism sector.
Isabel Borrego quoted data obtained by the sector last year, where all previous records for visitor numbers and expenditure were surpassed.
The presentation focused on demonstrating how the tourism industry is one of the main drivers of Spain's economy, and the most dynamic in creating wealth and employment with an estimated 24% of all new jobs created in 2014 being attributed to the growth in tourism.
Last year Spain was the 3rd most visited country in the world.
Elsewhere this week, news in the Spanish media suggested that shareholders of the newly part-privatized AENA would have to vote on the subject of the closure of San Javier Airport. Similarly, the new board of AENA has expressed an interest in bidding to become the operator of Corvera Airport.
With a figure of EU36 Million being suggested as compensation to be paid by the region of Murcia to AENA for the closure of San Javier, it is easy to understand why AENA would represent a cost-effective and procedurally simple solution to the problem.
Other parties named as possible contenders to operate Corvera Airport include SNC-Lavalin (who operate Castellon Airport) and Ferrovial (who operate Heathrow; Southampton; Glasgow and Aberdeen Airports.)
Recommended Reading :
* Murcia's San Javier wins EU's best airport award
* Should Murcia compensate AENA for San Javier closure ?