Rajoy Denies Spain Sought to Undermine Greece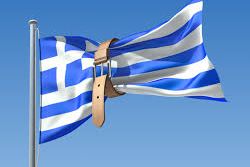 PM Mariano Rajoy rejected remarks from his Greek counterpart accusing Spain and Portugal of trying to undermine Greece's government.
Spain is committed to help Greece, as the EU26 Bln of loans and guarantees already provided to the Greek bailout show, said Rajoy at a political event in Seville today. Greek Prime Minister Alexis Tsipras, speaking yesterday in Athens, said Spain and Portugal took negotiations over Greece's bailout to the brink of failure in a bid to avoid domestic political consequences.
The remarks illustrate the tension that Greece's anti-austerity push caused in Spain, where the government also slashed spending as part of European Union requests. Podemos, a Spanish party allied with Tsipras's Syriza party, has become the most popular in Spain, several polls in the last 4 months have shown.
The Greek government on Feb. 24 was granted a four-month extension to its EU240 Bln bailout. The nation now must by the end of April refine details on how it will comply with the commitments under the agreement, reducing its scope to carry out its pledges to abandon austerity measures tied to the program.
"Spain and Portugal voted exactly the same as the rest of the European Union countries," Rajoy said. "We are not responsible for the frustration generated by the Greek radical left after promising Greeks something they know they can't fulfill, as it has been now demonstrated."
Spanish voters will cast ballots this year in municipal elections and in 15 out of 17 regions. A general election is due around the end of 2015.
"We were up against an axis, with Spain and Portugal at the vanguard, that for obvious political reasons wanted to take the negotiation to the brink," Tsipras said Saturday at a party event in Athens. "The plan was and remains to drive the government to attrition, reversal or unconditional surrender, before the government's program had started bearing fruit."
Tsipras had a duty to the Greek people to describe the negotiations leading to the agreement, and the positions of all the governments were well known, a Greek government official said, asking not to be identified in line with policy. The government is looking for European solutions, not categorizing countries into friends and enemies, he said.
It would be helpful if the Greek administration doesn't talk in a way that makes it hard for other European leaders to persuade their populaces, German Finance Minister Wolfgang Schaeuble told Bild am Sonntag newspaper. If Greece doesn't stick to the agreement's conditions, no more help will be available, he said.
A spokesman for Portuguese Prime Minister Pedro Passos Coelho said Greece's accusations were unfounded.
"There were contacts through the diplomatic channels to underline that we were perplexed with the unfounded accusations," the spokesman, Rui Baptista, said via text message.
Recommended Reading :
* Spain : There are 'red lines' for agreement with Greece
* Spain "Can't afford to write off Greek debt" : Rajoy