Renewables bring 48% of Spain's power in Feb 2015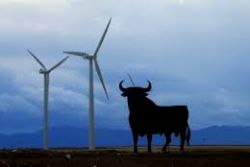 Spain's renewable energy plants produced 48% of the country's power in February, according to data by grid operator Red Electrica de Espana (REE) published on Friday.
Wind power generation grew 4.5% year-on-year to 5,833 GWh in February, which corresponds to 27.6% of the total electricity production in Spain for the month. The share of hydroelectric plants was 15.7%, while solar photovoltaic (PV) and concentrated solar power (CSP) parks accounted for 2.2% and 0.9%, respectively.Gross power demand in mainland Spain went up by 3.4% year-on-year to 21,055 GWh, while in calendar- and temperature-adjusted terms demand grew 1.1%. In January-February, demand stood at 43,006 GWh, up 3.2% on the year.
The country's total installed capacity as at December 31 is estimated at 102.3 GW, 22.3% of which is wind farms.
Recommended Reading :
* EU Instructs Spain to install more wind turbines
* Iberdrola profit declines after Spain cuts renewable subsidies