Spain's Caixabank aims for pre-crisis profit levels within 3 years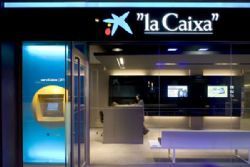 Spain's 3rd-biggest lender Caixabank on Tuesday said it was aiming to restore its pre-crisis profitability levels within 3 years by growing revenues and becoming more efficient.
The Barcelona-based bank, one of the few Spanish lenders that weathered the financial crisis without public aid, said it aimed to expand revenues by 5.7% annually over the next 3 years.
It also aims to lower its efficiency ratio, or expenses as a percentage of revenue, to below 45% by 2018 to put it in line with big Spanish peers.
Caixabank said it would achieve that not by job cuts but through a rise in productivity and a spending freeze, which, combined with EU450 Mln of expected synergies after recent buys, should offset rising wage and administration costs.
Known for cautious credit and capital policies, Caixabank said it wanted to cut its bad loans ratio to below 4%, from 9.9% at the end of 2014, and keep its so-called CET1 fully loaded capital ratio at between 11 and 12%.
This should boost its so-called ROTE (return on tangible equity) profitability ratio to between 12 - 14% from 2017 onwards, up from 3.4% currently, it said.
"Our vision is one of a financial leader both in Spain and in Europe," Chairman Isidro Faine told a news conference.
Shares climbed as much as 2% at the open on Tuesday, later pared gains to be down 0.2% at EU4.08 at 1145 GMT in a Spanish stock market falling 0.45%.
Analysts said the new forecasts were in line with expectations and that potential new acquisitions and announcements made on Tuesday, including dividend payouts of at least 50% of profits in coming years and the prospect of a special dividend in 2017, would be the main drivers for the shares.
"This increased commitment towards cash remuneration is the most positive area of today's information, though market enthusiasm is likely to be tempered by the potential need to raise equity to fund BPI, and more importantly, the large capital consumption likely to be attached to Novo Banco's potential acquisition," said Credit Suisse analysts.
The bank last month bid for Portugal's BPI and confirmed plans to pursue an acquisition of state-rescued Novo Banco to challenge for market leadership in Portugal.
But Angolan investor Isabel dos Santos has proposed an alternative merger between BPI and Portuguese peer Millennium , a source said on Tuesday.
Recommended Reading :
* Spain's CaixaBank bids for Portugal's BPI
* CaixaBank rolls out contactless wristbands across Spain