British Bobbies to Lend a Hand Policing Spain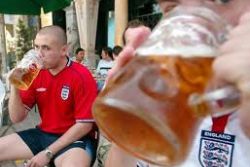 UK Coppers are Spain-bound to assist the local police with patrols of many areas popular with clubbers and party-goers across the Spanish Costa's.
The local police of Ibiza's San Antonio have requested assistance from the British Police on patrols of the resort to tackle drunken behaviour and deter the trade in illegal drugs, which is a significant problem on the island during the summer months.
Last year a number of young British clubbers were filmed by locals openly snorting cocaine on hotel balconies, which was then published on the social networks and local media, and caused local officials to complain that the image of the town had been brought into disrepute.
Jesus Valdes, a spokesman for the Regional Government, said the British police are expected to gather intelligence on the Manchester and Liverpool-based gangs who target the resort to sell illegal drugs each summer.
"Dealers posing as tourists bring suitcases full of designer drugs onto Ibiza and work out of homes rented for them by their paymasters. Locals last year took photos and videos of British holidaymakers openly snorting cocaine on their balconies and loaded them onto social networking sites."
"Drink-related incidents like balcony falls and fights are also commonplace. Last year a field hospital was set up in San Antonio to help relieve the pressure on the island's main hospital and health centres," he said.
The Town's Mayor told the Daily Mirror : "The Spanish government is currently negotiating with the British government the arrival of these police officers this summer.
"Hotel bosses have already offered these police free rooms. The arrival of these officers who will patrol with Guardia Civil officers will increase the security we want to offer both tourists and residents."
"It will also help local Spanish police concentrate on making sure by-laws like bar opening hours are adhered to so they don't find themselves overwhelmed by public order interventions," said Gutierrez.
British police are also understood to be in discussions over similar patrols in Magaluf on the neighbouring island of Majorca. The resort is renowned for binge drinking and sex, which has gained it the moniker "Shagaluf" among British and Irish revellers.
Recommended Reading :
* Magaluf Police implicated in suspected extortion ring
* Spain beats annual tourism record with a month to spare