Spain's 100 Montaditos Files for Bankruptcy in the US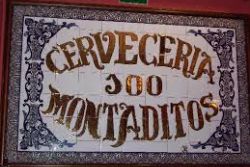 100 Montaditos, the popular fast-casual sandwich chain from Spain, has filed for Chapter 11 bankruptcy protection for its locations in the United States, reports Nation's Restaurant News.
Because 100 Mondaditos has only 17 locations - seven company-owned and 10 franchised - in the United States, the bankruptcy reorganization will only affect a very small portion of the business.
In Spain and elsewhere around the world, 100 Montaditos has more than 300 locations.
The chain is known for small sandwiches popular in tapas bars, and a number of other classic Spanish menu items.
Thus far, the severity of debt and bankruptcy protected needed is unclear.
In an email to NRN, an attorney who represents 100 Montaditos said only that the bankruptcy was filed "to permit the company to restructure certain obligations relating to the operations in the United States."
Depending on the size of the debt, it may be possible for 100 Montaditos to emerge from bankruptcy within the next several weeks or months.
Recommended Reading :
* Jan 1st 2015 : Have a Coffee and kiss goodbye to the Spanish bar ?
* McDonalds bow to Spanish consumer pressure