Spain general election poll shows 4 parties practically tied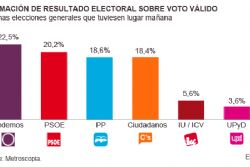 Spain's political map has changed to make way for new forces that will play a major role in future decision-making, the latest voter intention survey shows.
An early March poll conducted by Metroscopia for EL PAIS shows that the PP and PSOE, the two groups that have taken turns in government since the return of democracy in the late 1970s, will now have to share power with two strong newcomers.
The picture that emerges is one of unprecedented fragmentation, in which four parties are collectively attracting around 80% of the vote, but coming in so close that not one of them will secure enough support to govern single-handedly.
Podemos, Spain's new anti-austerity party, continues to lead the way in voter intention with 22.5% of the estimated vote, confirming a 3-month-long trend despite a slight decline in support over the last quarter.
Another emerging force, Ciudadanos (C's), attracted 18.4% of the estimated vote, just two-tenths of a point less than the ruling PP. Meanwhile, the PSOE was backed by 20.2% of potential voters.
Political analysts are already talking about all kinds of potential cross-party agreements, either of a permanent nature or on a issue-by-issue basis.
But the parties themselves will not reveal their plans until after elections, which kick off on March 22 when Andalusians will be asked to elect their regional government.
Podemos, with leader Pablo Iglesias at the helm, continues to top voter intention polls for the 3rd month in a row.
The Andalusian elections are being cast as a preview of things to come when municipal and regional elections get underway elsewhere in the country. However, most of the focus is on the general elections scheduled for the fall, when Spaniards will confirm whether the political upheaval that's been widely forecast becomes a reality or not.
What appears to be indisputable is that after years of voter apathy, citizens are very motivated to cast their ballots, with 74.6% of survey respondents stating that they plan to go vote.
Regarding the need for cross-party agreements, 71% of those surveyed favored a scenario in which the most-voted party would seek support only on specific issues, not as a 4-year-long coalition.
These deals could take many shapes, ranging from a coalition of leftist parties (Podemos, PSOE and United Left) all the way to a "grand coalition" between Spain's two traditional parties, PP and PSOE, despite their traditional antagonism.
Ciudadanos has rapidly risen in recent months to become Spain's 4th strongest political force in voter intention.
As for Ciudadanos, the cross-party nature of its political program means that just as many of its supporters would back a coalition with the Socialists as would support a deal with the PP conservatives.
For now, most political leaders are expressing a willingness to reach across the aisle while falling short of discussing any specifics.
PSOE Secretary General Pedro Sánchez said he is ready to work with the PP on matters of state, such as the recent national plan against jihadism.
"The PSOE is in better conditions than any other party to talk about pacts," he said.
Meanwhile, Podemos leader Pablo Iglesias has said repeatedly that he will only work with the Socialists if the latter perform a U-turn. Iglesias recently reiterated his aversion to working with established parties: "You will not see me embracing [PM Mariano] Rajoy or [Catalan premier Artur] Mas."
"A political map is coming up in which there will clearly be a need for agreements," summed up Ciudadanos president Albert Rivera on Saturday.
"How could we not, if the most-voted party gets 21% of the vote and we get 18.5% ? Deals will have to be reached, but only to effect political, economic and social changes"
"[Citizens] will not allow us to come here to receive a nice little position or to keep a congressional seat warm," added Rivera. "We've come here to make changes. We're here to negotiate, not for wheeler-dealing."
Recommended Reading :
* Spain's ruling PP tops election poll, Podemos pips PSOE
* Spain's PM Rajoy would stand for election again