Spanish prostitutes to be granted workers' rights and benefits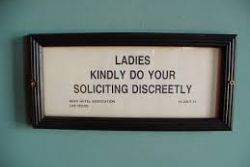 Judge Juan Augustín Maragall ruled in a Barcelona court that prostitutes should be given contracts by brothel owners, who would pay social security contributions on their behalf.
The civil court decision was made after a massage parlour offering sex services in the city was raided by labour inspectors.
Three prostitutes were found to be working there.
The judge ruled that management violated the women's rights and the firm, called Xcenter, would have to pay backdated national insurance payments for the prostitutes from 2012.
The owner argued that the workers were autonomous and not officially employed, however authorities stated that as there was a employer and employee working relationship, it constitutes a form of contract so social security payments should be made.
The court has therefore ruled that prostitutes should be given the security of benefits, healthcare, pensions and unemployment payments to help safeguard them from being exploited.
Pimping and trafficking remain illegal. Even amid an economic crisis in Spain, the sex industry is booming as more women are turning to it – often in desperation.
Around 39% of men in Spain admit to having used the services of a prostitute.
Sex workers have even been ordered to wear high-vis jackets when soliciting in Northern Spain to avoid road accidents.
Prostitution has been decriminalised in the country since 1995, however sex workers were not deemed to have had jobs and were not entitled to labour rights.
The decision by the court in Barcelona is not yet final, as it can be appealed to the Superior Court of Justice of Catalonia.
The sex trade has always been legal in the Netherlands and it is regulated under normal labour laws.
Self-employed prostitutes have their own union and they all have to be registered with the Dutch government.
Recommended Reading :
* Spain calculates sex trade worth EU60 Mln per day
* Madrid revises fines for Misdemeanors