Ryanair to start flights from Castellon Airport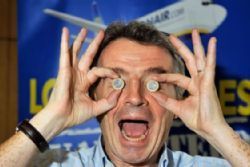 Irish airline Ryanair will announce on Wednesday commercial flights from Spanish 'ghost' airport Castellon, a symbol of profligate government spending during the country's property boom, El Pais reported on Tuesday.
Ryanair will be the first airline to run regular flights from the airport based near Valencia on Spain's Mediterranean coast, built at a cost of EU150 Mln only to stand empty for nearly 4 years.
Ryanair and a spokesman for the county council of Castellon declined to comment on the report, but both confirmed there would be a joint press conference in Castellon on Wednesday.
The press conference would be held at the seat of the Castellon county council with Ryanair and SNC-Lavalin, the Canadian company that manages the airport, a council spokesman said. SNC-Lavalin was not immediately reachable for comment.
Castellon airport was commissioned by the then-head of Castellon province, Carlos Fabra, a long-standing member of Spain's ruling Partido Popular who is now serving time in prison for tax fraud.
The airport was one of many grand building projects - including a Sydney-style opera house and Europe's largest aquarium - carried out by the region of Valencia during Spain's boom years before the 2008 crash plunged the country into its worst recession of modern times.
The region hoped the airport would bring in tourists to Spain's eastern coast, but the area is already served by airports in Valencia, Alicante and Barcelona.
The airport served its first commercial flight in January this year, a charter flight from Air Nostrum carrying local soccer team Villareal to a match in northern Spain.
Canadian engineering conglomerate SNC-Lavalin was awarded a 20-year contract to manage the airport last year.
Read further Castellon Airport news by clicking the link >> HERE <<.