Spanish lender Sabadell in takeover talks with UK bank TSB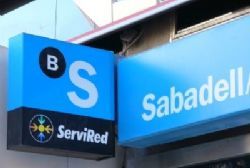 Spain's Banco Sabadell has presented a "preliminary" proposal of 340 pence (€4.80) a share – a total of €2.4 billion – as part of talks to take over the UK's sixth-biggest lender, TSB Banking Group, according to a statement released Thursday by the British bank.
The board of TSB has expressed its willingness to back the Spanish bank's offer at that price "if we reach an agreement on the rest of the conditions."
Lloyds, which controls 50% of TSB, released part of its share package in the bank on to the stock market in June at 260 pence per share, 31% below Sabadell's offer.
Spain's market watchdog, the CNMV, suspended trading in Sabadell for an hour after the share price fell 11% on the news.
TSB, meanwhile, has shot up more than 25% on the London stock exchange, the bank's biggest rise since its stock market debut.
The proposed offer would value TSB at £1.7 billion (€2.4 billion). That price is higher than the 80 pence a share seen at TSB's stock market debut in June.
"The board of TSB believes that Sabadell could support and accelerate TSB's retail growth strategy and accelerate the expansion of TSB's presence in the SME sector," the UK lender said in a statement.
Recommended Reading :
* Study into Bank charges in Spain
* Spain's Sabadell says targets EU1Bln profit in 2016