DGT Clamps down on use of child-seatbelts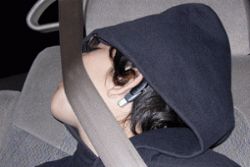 Further to a report by the European Transport Safety Council on the subject of road safety in 2012, some 8,600 car passengers in the EU survived a road traffic accident by wearing a seatbelt, whereas a further 900 'could have' survived a fatal accidents if they had been wearing a seatbelt.
As far as Spain is concerned, it was found that seat belts were generally worn by occupants travelling the front of road vehicles in 90% of occasions, compared to 80% for rear seat passengers. The combined average for all occupants comes to 88.3% - meaning that 12 out of 100 people travelling on Spanish roads do not wear any seatbelt.
As a means of reducing this number the General Directorate of Traffic (DGT) has launched an awareness campaign targeting seatbelt usage – especially for children travelling in cars – with Guardia Civil throughout the country increasing their checks of road users.
In 2013 (the latest year for which data is available) 150 of the 692 fatalaties on Spain's Motorways (22%) were not using a seat belt at the time of the accident, whilst 21of the 75 fatalities on urban roads were not wearing any restraint.
Penalty for Non-Compliance :
A spot fine of up to EU200 Euros and a deduction of 3 points from your driving licence can be applied for drivers caught in charge of vehicle where one or more of the occupants are not wearing the correct seat belt / restraint.
Children
The 2013 report also revealed how 4 out of the 20 children under the age of 12 traveling who lost their lives though not wearing the appropriate restraint at the time of the accident, nor were 14 of the 88 seriously injured, or 197 of the 2,741 with minor injuries.
As such the DGT is reminding all road users of the amendments to the Road Saftey Act approved by Congress last year :
* It is illegal for Children under the age of 12 (or under 1.35m tall) to travel on the front seat of any car.
* Children must always travel with their own seat restraint – IE not on the lap of an Adult / sharing with another Child.
* The harness or belt should not be twisted, bent or loose.
* The child restraint system must be properly installed, and should not move (the report also recommends seat with "Isofix" anchor points.
Recommended Reading :
* Spain's DGT revises speeding guidelines
* Child seatbelts not worn in 54% of fatalities