Spanish PM: not all election hopefuls targeted by courts should be banned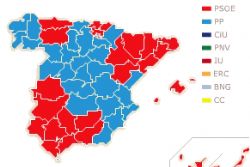 PM Mariano Rajoy admits that corruption is the issue that has most hurt the Partido Popular during his second term in office.
But in an interview with radio station Onda Cero, the Spanish leader also defended that the decision to exclude politicians targeted in criminal investigations from running in elections should be made on a case-by-case basis.
His words echoed recent statements by former Socialist prime minister Felipe González, who told EL PAÍS that it was "a mistake to exclude all investigation targets from the electoral lists."
"It depends," said Rajoy, adding that being imputado does not necessarily lead to a court conviction.
"In fact, not long ago the Supreme Court shelved accusations against relevant political leaders," he said.
To Rajoy, the problem with preventing election hopefuls under court investigation from running in elections is that "you are putting them on trial ahead of time. Every case is different, in each specific case it is necessary to make a concrete decision."
With the PP embroiled in several high-profile corruption investigations, including Gürtel and Púnica, Rajoy noted that the individuals involved in these cases were no longer with the party, and that he was ready to adopt any kind of decision aimed at being "more efficient against corruption, which must not happen again in Spain."
With regional, local and national elections around the corner, both the PP and the Socialists are trying to shake off the image of corrupt, self-serving behemoths that up-and-coming new parties such as Podemos and Ciudadanos are attributing to them with great success.
Recommended Reading :
* Spain General Election Poll Shows 4 Parties Practically Tied
* Ciudadanos Expected to Trump Regional Polls in Spain