Andorra moves to contain money-laundering scandal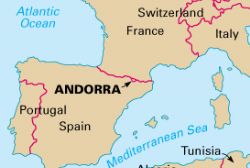 State-appointed managers at Andorra's Banca Privada d'Andorra (BPA) have capped cash withdrawals in an attempt to contain the damage from U.S. allegations the bank laundered money for international criminal gangs.
The scandal - which has also spread to neighboring Spain, where BPA's Spanish unit Banco Madrid filed for bankruptcy on Monday - is a blow for the mountainous principality, which relies heavily on financial services.
Standard & Poor's (S&P) has said the problems at BPA - a lender which it said represented about a fifth of all assets and liabilities in the Andorran banking system - could strain national finances.
Andorra took control of the bank after the U.S. Department of the Treasury described it last week as an "easy vehicle" for criminal gangs in Russia, China and Venezuela to funnel profits.
S&P has since cut Andorra's sovereign rating one notch to two levels above junk, while BPA could lose its ability to operate with U.S. counterparties due to the allegations.
The chief executive of the bank, who was suspended along with the rest of the board last week, was arrested at the weekend on suspicion of money laundering.
BPA's provisional administrators have imposed a limit on cash withdrawals from ATM machines of 2,500 euros per week per account, and limited national and international transfers.
The principality's finance minister said on Monday the banking system was under stress but he insisted the scandal at BPA was an isolated case.
"Andorra has initiated a transformation process and is committed with transparency, international standards of exchange of information and the fight against money laundering ... to preserve our position as a world-class financial center," Jordi Cinca told Andorran television.
Andorran banks have expanded at a breakneck rate in recent years, increasing their assets under management by nearly two-thirds in the five-year period to 2013, and spreading to a wide array of places, including Spain, the United States, Mexico, Dubai and Brazil.
The sector's assets under management are 17 times the size of the local economy and S&P has said the central government would not be able to provide enough financial support to BPA if it was required.
SPANISH BANK HIT
Andorran banks have no direct access to European Central Bank (ECB) facilities from their head offices, however they could access ECB funding through subsidiaries in the euro zone if those units had eligible collateral to park with the ECB.
Banco Madrid, one of BPA's subsidiaries, will begin bankruptcy proceedings after customers rushed to empty accounts in the wake of the U.S. allegations.
The firm, which focused on private banking, had about EU6 Bln of assets under management before the allegations, and 15,000 clients with deposits.
Deposits of up to EU100,000 per client will be guaranteed, and the Bank of Spain said fewer than 500 clients had more than that amount held at Banco Madrid.
The cost for Spain's deposit guarantee fund, which has about 3.7 billion euros in firepower, will be under EU500 Mln, 2 sources familiar with the matter said.
Spain's stock market regulator CNMV also said it had suspended reimbursement of investment funds managed by Banco Madrid.
The U.S. allegations include that BPA facilitated the movement of $4.2 billion in transfers related to Venezuelan money laundering.
American officials said BPA's alleged money laundering occurred largely through its Andorran headquarters. But Spain's anti-corruption prosecutor is looking into whether similar activity occurred at its unit there, a judicial source told Reuters.
As well as looking into Chinese and Russian links, the anti-corruption prosecutor has tracked down about 20 names of former Spanish politicians who might be involved in financial wrongdoings with Banco Madrid, the source said.
Recommended Reading :
* Central Bank takes over Banco Madrid
* Spain supports end to Andorra tax haven