Gibraltar takes legal action against Spain's ABC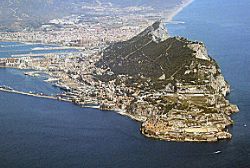 The Gibraltar Government has commenced an action in the Spanish courts for rectification and correction against the Spanish daily newspaper ABC. This follows the publication of a front page cover and an article about Gibraltar by that newspaper on 23 February 2015.
The story amongst other things claimed that Gibraltar does not comply with international requirements and also alleged that it fosters criminal activity.
"The article made a series of claims against Gibraltar which are wholly inaccurate and defamatory and which are therefore damaging to the reputation and name of Gibraltar. The Government is not prepared to tolerate this kind of journalism and has therefore taken legal action against the ABC newspaper and its Editor, calling for the publication of a correction and an apology," said No 6.
Spain has a procedure similar to libel but in this case it is understood that a process allows specifically for a rapid complaint against a newspaper where misrepresentation and detriment are argued. The complainant has a seven day window to raise the complaint. The newspaper has then three days to retract and correct after which the matter goes before a judge for argument and decision.
Recommended Reading :
* Spain lobbies for Gibraltar EU Airport exclusion
* Gibraltar 'not economically viable outside EU'