Ryanair Launches New Customer Charter to Make Travel "Enjoyable"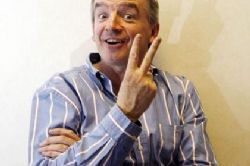 Budget airline Ryanair is one that historically many people have loved to hate. Their outspoken Chief Executive Michael O'Leary has come under fire a number of times over the years for his fearless cost cutting and down-to-earth honesty. Now though it seems a new customer charter is set to go live in order to celebrate the airline's 30th birthday.
The goal of the new charter is to respond appropriately to the vast amount of customer feedback that an airline carrying 90 million passengers a year receives and as a result to significantly improve customer satisfaction levels.
This is great news from the perspective of expats and tourists seeking a high quality flying experience at reasonable costs, and good too for Ryanair if, as they expect, the new charter helps them attract another 10 million passengers in 2015.
Ryanair was once famous for its "minimalist" offering, eliminating every unnecessary service and flying from less popular airports in order to keep air fares as low as possible. For some people though, these cuts were a step too far and made for a less pleasant flying experience.
Launched in 1985 with a single plane, Ryanair was the brainchild of Christopher Ryan, Liam Lonergan and Tony Ryan. Making the most of de-regulation in the UK airline industry they offered a "no frills" service and grew rapidly over the years as flying became affordable for ever more people. It now operates 300 planes flying to 28 different countries and hopes to service an impressive 100 million customers in 2015.
Over the last few years though Ryanair has been responding to customer feedback and introducing a number of initiatives to make flying Ryanair a rather more comfortable experience. Over the last few years, for example, Ryanair have introduced allocated seating and allowed passengers to bring a second carry-on bag with them for no additional charge.
Now, though, in the biggest shake-up in the company's history, passengers can expect a new level of service that is designed to make travelling with Ryanair an "enjoyable experience".
For one, many of Ryanair's fleet of jets will see major refits. The newly-designed interiors will not only offer a more luxurious cabin surrounding but also comfier seats and more leg room. Food, too, is set for major improvements with a larger range of meals available over a longer period of time during flights.
In addition, Ryanair is investing heavily in its website and ancillary services to make flying with them easier than ever before. The new site promises a customized experience for visitors, real-time price comparisons and independent destination reviews.
It could just be the largest change in Ryanair's history – and is one that we wish them every success with.
Recommended Reading :
* Ryanair to start flights from Castellon Airport
* Ryanair acts on fuel policy defamation