Lycamobile Spain launches roaming voice and data bundles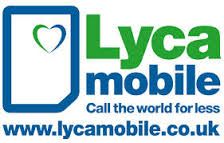 MVNO Lycamobile Spain has launched a total of 6 voice and data bundles that can be used not only in Spain but in 14 European countries as well as the US and Australia.
The voice bundles cost EUR 2.50 for 50 minutes of calls and 25 SMS and EUR 5 for 120 minutes of calls and 60 SMS. The voice and data bundles start at EUR 7.50 for 150 minutes of calls, 50 SMS and 500MB of mobile data, up to EUR 20 for 400 minutes of calls, 400 SMS and 2GB of mobile data.
The bundles can be used in Austria, Australia, Belgium, Norway, Germany, Ireland, Italy, France, Holland, Sweden, Poland, Spain, Denmark, Switzerland, Portugal, the UK and the US.
UK-based Lycamobile has been operating in Spain for over three years and earlier this year passed the milestone of 1.5 million customers to become one of the country's leading MVNOs.
Recommended Reading :
* Lycamobile reaches 15 Mln customers in Spain
* Study into cost of Spain's mobile internet charges