Ex-treasurers of Spain's ruling PP set for slush fund trial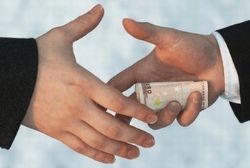 Two former treasurers of Spain's ruling conservative Partido Popular are among 6 people who should face trial over allegations that the party ran a slush fund, the country's high court said on Monday.
After a long-running probe into the slush fund allegations, investigating magistrate Pablo Ruz said former party treasurers Luis Barcenas and Alvaro Lapuerta and four other suspects should be tried for tax evasion.
Ruz also recommended that Barcenas and Lapuerta face additional charges of embezzlement.
"The magistrate considers there was evidence to prove that a set of B accounts existed at the Partido Popular," the court said in a statement.
The allegations that the PP had a slush fund bankrolled by payments from companies continue to embarrass the government in a year in which Spain holds regional and general elections.
Corruption allegations against the PP and the rival PSOE have helped fuel the rise of upstart political parties like anti-austerity Podemos ("We Can") and centrist Ciudadanos ("Citizens").
Podemos won 15 seats and Ciudadanos won nine in a regional election in Andalusia on Sunday, the first time the two have run in a regional election.
The case will not be scheduled for trial this year, a judicial source told Reuters, sparing the PP the prospect of negative headlines from the courtroom disrupting its election campaigns.
The 4 people the magistrate recommended for trial on tax evasion were Cristobal Paez, who worked for the PP, and three workers at a company that carried out construction work at the PP's headquarters in Madrid.
A total of EU1.6 Mln of undeclared financing was used for the work, the magistrate concluded.
Recommended Reading :
* Spain ranked 37th most corrupt country
* Rajoy : "There is no such thing as generalized corruption in Spain