2 Dead in Valencia Floods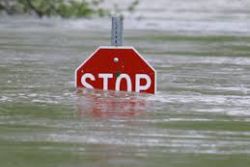 Spanish rescue workers have retrieved the bodies of 2 people who are thought to have drowned during heavy rain which has caused extreme flooding across many municipalities in the Province of Castellon, Valencia.
Provincial firefighters today found the body of a young woman who fell into the swollen Senia river in the town of Benifassar yesterday.
On Sunday firefighters found the body of man in a car that had overturned in a flooded country path near the town of Cabanes.
Many towns in the province, including the capital, Castellon, were flooded in Monday's downpours.
Spanish National Television showed images of cars almost covered in water and people walking knee-deep in many streets.
The heavy rains seen across the province over the last week are expected to abate from today.
Recommended Reading :
* Spain to undertake safety checks across 9 dams & 3 rivers
* Ryanair to start flights from Castellon airport