Rajoy's Adviser ; "No Election Spending Spree in Spain"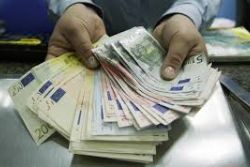 The Spanish government will steer extra tax revenue produced by the economic recovery to narrowing the budget deficit rather than funding populist measures to court voters ahead of the general election, according to Prime Minister Mariano Rajoy's top economic adviser Alvaro Nadal.
Europe's 5th-largest Economy is growing faster than the government projected when Rajoy set out his spending plans for the final year of his term though his party is still lagging the anti-austerity party Podemos in most recent opinion polls.
"If there is an improvement in economic growth and tax collection, it will clearly go to consolidating" the budget, Nadal, who has helped Rajoy steer Spain through the financial crisis since December 2011, said in an interview. "There won't be any extraordinary spending plans at the last minute."
The PM is under pressure after his party suffered its worst result in 25 years in Sunday's election in the southern region of Andalusia. The premier is struggling to convert Spain's economic recovery into political capital and faces a slate of regional and local ballots in May before a general election due at the end of the year.
"In our country there is a trend to report too much bad news," said Nadal. "But the good stories aren't told. This country is recovering, growing and creating jobs."
Election-Year Tax Cuts
Rajoy has already budgeted for a series of tax cuts and spending increases that the European Commission says will see Spain overshoot its deficit targets this year and next. The government says it will meet its 2015 goal of 4.2% of GDP this year while the commission forecasts a shortfall of 4.5%.
Rajoy said last month that Spain's 2015 economic growth will be 2.4%, compared with a 2% estimate in the budget. The state expects tax collection to increase by about 4 percent this year and will officially update its macroeconomic projections next month.
The economy is likely to grow about 2.6% this year, according to a survey of 18 analysts by the Spanish Savings Banks' Foundation.
A Serious Country
While ruling out extra spending, Nadal said the government could consider bringing in more tax cuts if revenue runs significantly ahead of budget projections.
"It's something that hasn't been ruled out but we have to wait," said Nadal. "We are a government and a party that has always been characterized by limiting the tax burden."
Spain has been under the European Commission's excessive-deficit procedure since 2009, after the budget spiraled out of control during the financial crisis. Spain has committed to delivering a 2014 deficit of 5.5%, 4.2% for 2015 and 2.8% for next year.
The 2014 figure, to be published this week, will show that Spain is a "serious" country, Nadal said without providing a specific figure.
"Within a few tenths of a percentage point, it can be considered the goal has been met," he said.
Structural Deficit
Should Rajoy manage to win another term, he plans to reform the mechanism for calculating how much tax revenue the central government transfers to the regions and to change the way indirect taxes are levied.
He will also create a system to maintain the long-term investment in basic public services such as health care, Nadal said. That three-legged reform should allow Spain to reduce its structural deficit.
"It's like turning a big ship: it's heading to the starboard just like you want," Nadal said. "At some point the turn will be complete, because all the levers are working together."
Recommended Reading :
* Regional GDP growth uneven in Spain
* Spain's Gov't : 23 reasons to be cheerful