Spain launches new EU153 Mln smart city initiative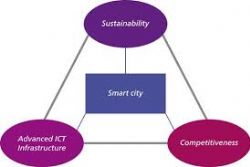 Spain's industry ministry has announced the launch of a new plan to invest a total of EU153 Mln in a series of smart city initiatives.
The National Smart Cities Plan will be co-financed by the European Regional Development Fund (ERDF) and the private sector and will be coordinated by the Secretary of State for Telecommunications and the Information Society via a newly-created Smart Cities Advisory Board made up of the Secretary of State, internet and ICT development agency Red.es, the state bodies Segittur and Idea, EOI business school, local authorities and industry representatives.
The government has already announced that it will be investing EU13.1 Mln in 13 smart city projects benefiting 23 cities in Andalucia, 3 in Castilla-La Mancha and one in Extremadura.
The projects make intensive use of information and communication technologies and cover areas such as sustainable mobility and security, open government, energy efficiency and tourism.
Recommended Reading :
* 1 in 4 Spanish adults are internet addicts
* Study into cost of Spain's mobile internet charges