None of Spain's AVE high-speed rail lines profitable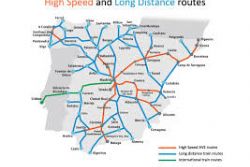 A new study presented on Thursday on the multi-billion euro investments made on Spain's AVE high-speed rail system concludes that the costs are "neither beneficial to businesses nor society," and do not compensate passenger savings in airline tickets or time spent on the road.
The Foundation for the Studies of Applied Economics (FEDEA), which conducted an analysis of major AVE routes, said that the current demand for train services wasn't enough to recover the investments made by past and current Spanish governments.
Spain has few passengers for the high number of AVE rail lines, Fedea researchers Ofelia Betancor and Gerard Llobe said.
The network covers 2,515 km and an additional 1,200 km are currently under construction. Only China has more rail lines.
In comparative terms, there are 54 km of track for every 1 million residents. In France that ratio drops to 31 km per 1 million.
However, the number of travelers in Spain who use the high-speed rail service is much lower than in other countries. Researchers determined that there were 11,800 passengers for every km compared with the 158,121 passengers per km in Japan and 61,400 in km.
FEDEA estimates that Spanish governments – including the current one – have spent more than €40 billion in constructing the rail system, with another €12 billion going to related work projects.
In the middle of an election year, the Public Works Ministry has announced that it will lay down an additional 1,200 km of track that will connect eight provincial capitals.
FEDEA blames governments for not making public cost analyses each time they decide build a new high-speed connection, and bemoaned "the high price Spanish society will have to assume as a result of such investment decisions."
The only manner for the government to recover its losses is through a considerable increase of passengers, which doesn't seem likely in the near future, researchers said.
The Public Works Ministry has projected a two-fold increase in rail passengers in the next five years. In the last year, there has been a 16% upturn with 29.7 million people reportedly using the AVE.
The study looked at traffic on AVE's four major rail lines: Madrid-Barcelona, Madrid-Andalusia, Madrid-Levante and Madrid-North. Together, they carry 70 percent of all high-speed rail passengers.
As for the reasons why Spanish governments decided to make such huge investments, Fedea lists "political gain" with the justification of "providing jobs" and "developing a national industry" as factors.
"Our conclusions put in question the lack of fundamental economic reasons to make such investments in high-speed rail for Spain," the researchers said.
Recommended Reading :
* Spain - France train operator fights to avoid bankruptcy
* EU regulators to probe Spain's EU359 Mln railway test center