Spain Pilots unions claims '2 person rule' ineffictive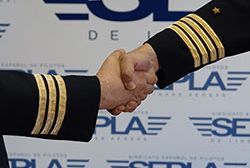 On Friday, the European Aviation Safety Agency (EASA) recommended airlines to have at least two crew members in the cockpit at all times during flight after the Germanwings' Airbus A320 crash in France on March 24.
"Another person in the cockpit can help or complicate the existing situation. There are heavy objects in the cockpit, like an axe or a fire extinguisher, that may be used against [pilots]," Gomez told RIA Novosti.
He said that the risks the introduction of the two-person regulation might entail were yet to be assessed.
According to a French prosecutor in the A320 case, the captain of the Germanwings' aircraft left the cockpit to visit the toilet and was locked out by the co-pilot who is suspected of deliberately crashing the plane afterward.
Gomez said that installing a door to the toilet right in the cockpit could be the solution that could prevent similar situations.
Lufthansa, Germanwings' parent company, on Friday said it was switching to the "rule of two" for aircraft cockpits. Other German airlines are said to be adopting the same practice.
Airbus A320 crashed in the French Alps while en route from Barcelona to Dusseldorf. All 150 people board died in the crash.
Recommended Reading :
* Barcelona - Dusseldorf Plane crash : 150 feared dead
* Investigators rules out mid-air explosion as cause of alps crash