British Expat Couple Shot Dead in Alicante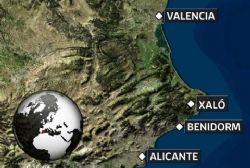 ALICANTE - A British Expat couple have been found shot dead in their Villa, just north of Benidorm, in the sleepy town of Jalon (Xalo in Valenciano), Alicante.
The couple aged 77 who had lived in Spain for 18 years were named by Spanish police as Peter and Jean Tarsey.
Described locally as a "lovely couple", they were discovered "locked in each other's arms on the sofa" by friends yesterday afternoon around 4pm.
Police said the couple were shot by what appears to have been a small caliber gun and that various shots had been fired.
There were no signs of forced entry into the Villa, however a television is missing and a computer was thrown into the swimming pool.
The Guardia Civil believe the couple were killed in the last few days, yet post-mortem examinations have not been completed. Police are treating the case as a murder.
The small town of Jalon/Xalo has a tiny population and a thriving expat community spanning several nationalities.
The predominantly agricultural town is popular with expats for its strong sense of community, wide open spaces and vast almond/orange groves. It's well away from the usual tourist hotspots but in easy reach of Calpe, Benidorm and Alicante.
A Foreign Office spokesperson said "We can confirm the death of two British nationals in Alicante, Spain. We stand ready to provide consular assistance".