Spain's 'bad bank' Sareb widens net loss in 2014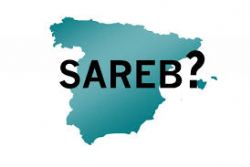 Spain's "bad bank" Sareb more than doubled its losses in 2014, as it continued to battle the fallout from the country's financial crisis.
Operational since 2013, SAREB took on EU50 Bln in land, buildings and loans from bailed-out lenders. The aim was to draw a line under Spain's banking and property woes and to sell assets back to the market.
The vehicle, which is partly backed by the government, is still lumbered with tens of thousands of assets which may be hard to sell, including undeveloped land in rural areas.
SAREB booked a EU585 Mln net loss for 2014, widening from a EU261 Mln loss the year before. Its finances were hit by provisions of EU719 Mln on problematic loans, even though property prices are starting to stabilise in Spain after a 7-year slump.
Its sales of housing have picked up, coinciding with a revival of Spain's economy after a prolonged downturn, but Sareb said it was facing stiff competition from rival sellers. Its gross income was flat from a year ago at EU1.6 Bln.
SAREB Chairman Jaime Echegoyen said property prices were improving. "In housing and in land, things are stabilising," he told a news conference. "Demand is a lot more solid than it was before."
He declined to say in what year SAREB might turn a profit, however. Without the provisions, SAREB's 2014 loss would have narrowed to EU45 Mln.
The Bank of Spain had asked Sareb to revalue some of its assets and book charges on them accordingly. The bad bank said it had taken the provisions on problem assets such as unpaid loans, and loans that do not carry guarantees.
SAREB also has to keep paying down debt.
Recommended Reading :
* Losses at Spain's bad bank raise prospect of slow turnaround
* Spain sees new bank launched for expats