Easter holiday: DGT advises when to avoid road travel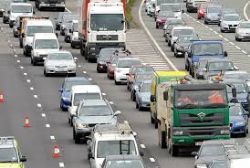 Authorities are bracing for a surge in traffic as millions of people go off on their Easter holiday this Wednesday.
Eight million road trips are expected to take place across Spain during the holiday, which runs Thursday through Sunday, Friday through Monday or Thursday through Monday depending on the region.
Spain's national traffic authority, the DGT, has deployed nearly 10,000 highway patrol officers, 600 traffic managers and over 13,000 road maintenance workers to deal with the high vehicle volume.
Experts are advising holidaymakers to avoid road travel during the following specific timeframes, given the likelihood of heavy traffic.
Wednesday between 3pm and 11pm
"The main flow of traffic will head from the cities to coastal resorts, holiday homes, municipalities with traditional religious celebrations and tourist areas in the mountains," said the DGT, underscoring that "Wednesday night tends to record the heaviest traffic in the entire year."
Thursday between 8am and 2pm
While most Spanish regions will register heavy traffic throughout the morning, in Catalonia and the Valencia region, where Thursday is a regular working day, people will start hitting the roads between 1pm and 11pm. "The main traffic trouble will occur on the roads leading to the coast," said the DGT.
Friday between 10am and 1pm
"On Friday morning, residents of Catalonia and the Valencia region will continue to get away from the cities," explained the DGT. "In the afternoon, there will be short, local trips throughout the territory."
Saturday: no major road travel
Saturday will be the quietest day of the entire Easter holiday as far as road travel is concerned. The DGT is only expecting delays in tourist destination cities, particularly on the coast.
Sunday between 1pm and 11pm
Most holidaymakers will head home around this time, although increased traffic is expected throughout the day.
Monday: trouble in eight regions
Eight Spanish regions have Easter Monday off and can expect heavier traffic: the Balearic Islands, Cantabria, Castilla-La Mancha, Catalonia, the Valencian region, Navarre, the Basque Country and La Rioja.
Recommended Reading :
* DGT clamps down on use of child seatbelts
* Spain's DGT to breathalise drunk walkers