Student seriously injured at Saloufest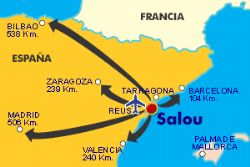 A 21-year-old from the UK is in a serious condition after falling from a hotel balcony during the notorious Saloufest Easter break.
Police from the town said they were treating the 50ft fall as a case of attempted suicide.
The unnamed woman was attending the annual invasion of the resort by nearly 5,000 British University students, where she suffered severe head injuries after falling from the fourth-floor balcony in the early hours.
A spokeswoman for the Catalan regional police force at nearby Tarragona commentred : "We are treating this as a case of attempted suicide - It was not the result of alcohol-related horseplay", adding that the young woman was in a 'grave' condition in hospital.
The injured woman was one of 4,600 University students attending the first wave of the 15th annual Saloufest this week, with a further 4,800 expected to arrive this weekend.
Every year locals complain about the unruly behavior, whilst supporters point the estimated EU 5 Million it generates for the local economy at a time before the summer holiday season has begun.
A statement by festival organisers ILOVETOUR said: "Saloufest night staff, emergency services and Police were on the scene within minutes and the patient is receiving medical care in a local hospital and is said to be in a serious but stable condition.
"We are doing all we can to help the family at this difficult time. We are also liaising with the Foreign & Commonwealth Office, which is providing consular assistance.
"The health and safety of all customers is of paramount importance to ILOVETOUR and our resort team is working with local authorities to establish how this happened."
Recommended Reading :
* Student injured 'Balconing' at Saloufest [2013]