2 Years since "Corvera Airport open Easter 2014" promise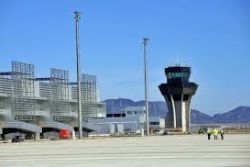 It is almost 2 years since former President Valcarcel told residents of Murcia that Corvera International Airport would be "open by Easter 2014, all being well".
The comments - made in July 2013 - were followed by claims that the facility would begin the process to become operational "later this month".
So much has changed since the comments were made, and several deadlines, promises and guarantees concerning the future of the Airport have all being made - and subsequently broken - but one fact remains indisputable : Corvera Airport remains closed, and few can say with certainty what the future holds.
The partial privatization of the state-run airports authority, AENA, has only caused to further complicate an already difficult situation with regards to the closure of San Javier Airport.
Over recent weeks the now regional President of Murcia, Alberto Garre, seems to have adopted a common-sense approach found lacking in his predecessor. On being asked for an opening date for Corvera Airport, his last comment was that the facility would be operational "soon".
Recommended Reading :
* Corvera Airport operational by Easter 2014
* 1 year anniversary since 'Corvera open Easter 2014' lie
* 'Corvera Airport open March 2015' : Sweepstake