Rajoy to Seek Reelection as Spain's PM in 2015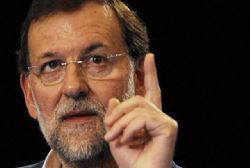 Spanish PM Mariano Rajoy will seek reelection at this year's national elections as a candidate from the People's Party, he said to the National Radio of Spain on Monday.
"It is my intention to become a candidate again, and again to try to become the PM," Rajoy said.
According to the politician, the aim of his People's Party is to win at the regional elections in late May, as well as at the national elections.
Rajoy added that the parliamentary elections in Spain are likely to be held in the last week of November.
"The last elections in 2011 were held on November 20. I think that it would be natural to hold elections at the same dateline. But the final decision is yet to be made," Rajoy pointed out.
The Partido Popular, facing severe criticism over the Rajoy government's unpopular austerity measures, came second in March's parliamentary elections in the country's southern Andalusia autonomous community, securing 33 seats in the parliament, 17 seats less than in the 2012 elections.
According to nation-wide poll results, published by El Pais in March, 4 Spanish political parties, including the People's Party, have almost equal chances of winning the parliamentary elections at the end of the year.
Recommended Reading :
* Rajoy's adviser : "No election spending spree in Spain
* Spanish PM : "Not all election hopefuls targeted by courts should be banned"