Brussels investigating Spain Banks' EU aid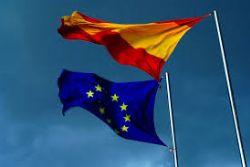 The European Commission is investigating if Spain may be receiving state aid to help improve balance sheets, in contravention of EU banking guidelines, it said Tuesday, confirming a media report.
Europe's southern countries have been among those worst hit by the eurozone's economic crisis. Questions over the stability of their banking systems could create new stumbling blocks to the region's recovery.
The issue relates to so-called deferred tax assets, which can be used by companies to reduce future tax payments.
The Financial Times newspaper had reported that the four countries in question count deferred tax assets as core capital, underpinning loans and other financial transactions, despite a European Central Bank assessment that these are not of high quality.
"European rules foresee that deferred tax assets cannot be considered core capital and should in any case be phased out by 2019 in certain circumstances," said commission spokeswoman Lucia Caudet.
At this stage, the EU's executive said it is gathering information to understand the existing measures and work out whether state aid is involved or not. This assessment needs to be completed before deciding whether to launch a formal investigation.
"Should we take a decision, of course we'll have to weigh a number of factors, such as existing laws in place, financial stability and so on," Caudet added.
The commission can demand that EU member states recuperate any state aid considered illegal under the bloc's rules, as it gives companies an unfair advantage.
Recommended Reading :
* Spain introduces new royal decree to favour bankrupt individuals
* Spain narrows budget deficit in 2014