Spain changes official definition of Franco to "Dictator"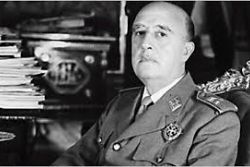 The Spanish history academy has said that the official biography of General Franco will be amended to define the man who led the country for 36 years as a dictator.
Speaking at a conference the director of the institution said that the 2011 publication would be corrected to reflect the dictatorial style of the man who ruled Spain with an iron fist from the end of the country's civil war in 1939 until his death in 1975, describing his rule as "authoritarian but not totalitarian".
In 2011, in what was seen as a remarkable apology for the Franco regime, it was revealed that his entry in the dictionary – produced at a cost to the public coffers of €6.4 Mln – portrayed a man who "became famous for the cold courage which he showed in the field". The harshly repressive nature of his 36 years in power were glossed over.
The historian responsible for the entry on Franco was Luis Suárez, an expert on medieval history who was for many years the only person given access to the dictator's family archive held by the Francisco Franco Foundation.
Paul Preston, a history professor at the London School of Economics and Franco biographer, welcomed any improvement on a text he described as "laughable" and said that Ms Iglesias was being "brave" in wishing to correct what he said was the academy's right-wing bias.
Recommended Reading :
* Interpol asks Spain to arrest 20 for Franco-era crimes
* UN gives Spain 90 days to explain Franco-era crimes