Rajoy bets his re-election on creating 800,000 jobs this year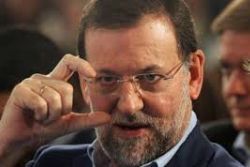 "When I'm in power, unemployment will go down." This campaign promise, uttered outside a Madrid employment office ahead of the November 2011 elections, is now hounding PM Mariano Rajoy.
With voters due to head out to the polls again this November, the head of the conservative Partido Popular (PP) is betting his re-election on his ability to create 800,000 jobs this year.
In public, the Spanish leader will only talk about 500,000 new jobs in 2015, but his private forecast is much more optimistic.
This obsession with job creation has a political explanation that goes beyond the altruistic desire to bring relief to a country with an unemployment rate of over 23%.
Rajoy wants to end his first term in office with more people in employment and fewer out of a job than when he took over from PSOE predecessor, José Luis Rodríguez Zapatero. While he never mentions him by name, Rajoy often makes references to the final months of the Zapatero administration, when the economic crisis was at one of its worst moments.
At every public rally he attends, Rajoy repeats that Spain has a historical opportunity to recover and leave behind its worst crisis ever, as long as his administration's policies continue to be applied and lawmakers "stay away from frivolities and avoid a return to the situations of 2008 and 2011, which will go down in our country's history."
Rajoy believes that Spain will create one million jobs between 2014 and 2015 – including the 430,000 created last year. At that rate, there could be 20 million people in employment by the year 2019, when his second term would end if re-elected.
While Rajoy officially talks about 500,000 new jobs this year, his economic team is privately talking about 800,000. The last time such a figure was attained was 2005, when a government drive granted legal status to 578,000 undocumented immigrants. Before that, there were similar job figures in 1999 and 2000, two years of record-breaking economic growth for Spain (4.5% and 5.3%, respectively).
The most optimistic forecasts are talking about 3.0% growth this year.
In an interview with state radio network RNE, Rajoy did not specify whether he would seek re-election a third time should he win the November vote.
Recommended Reading :
* Spain's best March for employment since 2001
* Spanish Prostitutes to be granted workers rights and benefits