Spanish hourly wages fall further from euro-zone average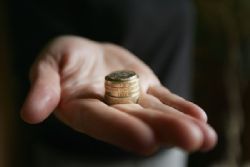 Wage devaluation has pushed Spanish salaries further away from the euro zone average, a recent European study shows.
In 2014, Spanish workers were making an average hourly rate of €15.70, or 27.3% less than the €21.60 average in the group of countries with the common currency.
Seven years earlier, in 2008 – when the economic crisis began – that difference was 24.3%, according to an analysis of companies with 10 or more workers conducted by Eurostat, the European statistics bureau.
This growing gap not only holds true in a comparison between average hourly wages in Spain and the euro zone, but also those between Spain and the EU as a whole.
These figures show a reversal of the trend of preceding years by which Spanish salaries were slowly converging with European ones.
Reducing labor costs as a way to improve competitiveness has been one of the goals of Spain's current conservative PP government, and many reforms have been aimed in that direction.
Other EU countries in financial straits adopted similar measures, either out of conviction or imposition. Domestic devaluation was a goal of the so-called Troika – the IMF, the European Commission and the ECB – which set out conditions for bailouts.
The Eurostat figures show that in recent years, other countries have been diverging from euro-zone salaries even more than Spain. The most extreme case is Greece, where the average hourly wage was €13.50 in 2008 – 29% less than the average – while in 2013 it was €11.40, or 46.4% less than the euro zone average.
Cyprus, Portugal and Italy have also experienced growing wage gaps compared with the group average.
Recommended Reading :
* Spain increases minimum wage
* Spain sees improvement in employee rights in 2014