Gibraltar would seek to preserve EU ties if Britain voted to leave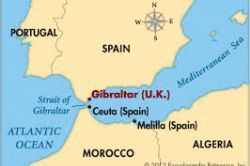 Self-governing British territory Gibraltar would seek to preserve its ties with the EU if Britain voted to leave the trading bloc, Chief Minister Fabian Picardo said in an interview on Tuesday, outlining the economic risks of an exit.
Picardo's comments in an interview with the Financial Times come ahead of a British national election which will decide whether the country holds a referendum on its EU membership.
Incumbent British PM David Cameron has promised to do so by the end of 2017 if he wins the unusually close election, sparking concern among the United Kingdom's constituent parts, especially Scotland, over the damage an exit could cause.
Gibraltar, a rocky outcrop off Spain's southern coast ceded to Britain in 1713, enjoys access to the EU's 500-million strong single market because it is a British dependent territory.
"(If) one part of the UK decides that it wants out of the European Union, then the negotiations should involve each of the separate parts being able to remain with a different degree of membership," Picardo said.
Withdrawing from the EU without negotiating a way to maintain access to its single market would be an "existential threat" for Gibraltar's economy, he added.
His concerns echo those of Scottish and Welsh nationalists who fear that a vote to leave the EU would damage their economy, cutting off vital trading links and making them less attractive to multinational firms looking for a base within the bloc.
The leader of the separatist Scottish National Party, Nicola Sturgeon, said last week she would likely push for another independence referendum if a Cameron-led government tried to "drag us (Scotland) out of the EU against our will".
Recommended Reading :
* Gibraltar takes legal action against Spain's ABC
* Gibraltar not economically viable outside EU