Spain's PP seen losing Valencia seats in Elections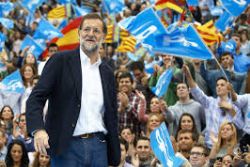 Voters in Spain's Valencia region, a bastion of conservatism for two decades, are likely to desert PM Mariano Rajoy's party in droves in May's regional election, a poll published yesterday found, in a taste of nationwide politics to come.
The Metroscopia poll showed Rajoy's centre-right Partido Popular (PP) would win the Valencia vote but halve its seats to 28 from 55 in 2011, leaving it short of a majority and unlikely to get sufficient backing from rivals to govern again.
Two new parties, Podemos (We Can) and Ciudadanos (Citizens), have focused on voter disenchantment over corruption and one-in-four joblessness, and would take 17 seats each, the survey for El Pais showed. The PSOE would win 23 seats, down from 33.
That implies the PP will not muster enough votes to rule alone, a trend expected in the rest of Spain in both regional and municipal elections next month and in a general election towards the end of the year which makes political pacts vital.
Pollsters warn of wide variations, uncertainty and potential upsets because of the new parties.
In the city of Valencia alone, on Spain's eastern Mediterranean coast, the PP was expected to lose the local election, getting the same number of votes as Ciudadanos, a conservative but more centrist party with a distinct rhetoric which has focused on cleaning up politics.
Ciudadanos says that it will forge alliances with any other party on a case by case basis, and refuses to be classed by ideology.
The poll of 1,500 people was conducted before news of a money-laundering investigation centring on the tax affairs of former PP leading light, Rodrigo Rato, long credited as the architect of a Spanish economic boom which imploded in 2008.
On Saturday, Rajoy acknowledged for the first time that the sullied image of Rato, also under investigation in two other judicial cases concerning bailed-out Bankia, had affected the party. Rato denies wrongdoing, and has expressed confidence in Spain's judicial system.
In recent weeks some PP members have criticised the party, a rare event in itself, for concentrating electoral strategy on an economic recovery which has eluded many ordinary Spaniards.
The latest national poll last week showed anti-austerity party Podemos would win a general election by a slight margin.
Recommended Reading :
* Rajoy bets his reelection on creating 800,000 jobs this year
* Spanish PM : "not all election hopefuls targeted by courts should be banned"