Spain to bid for euro zone chair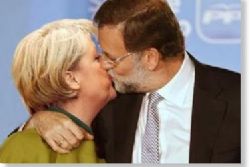 Spain will make a bid to EU leaders in the coming weeks to take over as chair of euro zone finance ministers' meetings, Spanish Economy Minister Luis de Guindos said on Saturday, seeking a post that shapes key policies in the single currency bloc.
The post, long sought by Madrid to balance what Spain sees as a loss of influence in the EU, is held by Dutch Finance Minister Jeroen Dijsselbloem. His term expires in July, although he is well-respected and would like to continue.
"It's very simple. The PM will present Spain's candidacy and we believe we stand a good chance ... we have support," de Guindos told a news conference following a meeting of EU finance ministers in the Latvian capital.
De Guindos has served as economy minister in the centre-right government of Spanish PM Mariano Rajoy since it took power in 2012 and is credited with steering Spain to economic recovery following the euro zone's 2009-2014 crisis.
German Chancellor Angela Merkel, the preeminent leader in Europe, last year publicly backed de Guindos as "an excellent economy minister in difficult times."
Dijsselbloem struggled early in his 2-1/2 year term and faced criticism for his handling of the bailout in Cyprus, where ordinary savers were targeted initially, although the measures were eventually levied only on the wealthy.
But since then, Dijsselbloem has impressed ministers with his handling of tense talks with Greece and is considered to have mastered the complex portfolio. He is seen as a straight-talking man who can build compromises and find solutions.
One euro zone finance minister who was initially sceptical about Dijsselbloem told Reuters in Riga that he now fully supported the Dutchman's handling of the post.
De Guindos' challenge will now be to garner enough support from the 19 countries in the euro to replace Dijsselbloem. The issue is likely to be discussed by finance ministers informally in May, before a decision by European leaders in June.
Another obstacle for de Guindos is that Spain holds a general election at the end of this year and euro zone countries may be reluctant to back a minister whose party is not guaranteed reelection.
Under EU rules, the chairman of the euro zone finance ministers must also be the finance minister of a euro zone country.
Recommended Reading :
* Gibraltar would seek to preserve EU ties if Britain voted to leave
* Spanish hourly wages fall further from Eurozone average